Prep and Varsity teams play a combined 10 games over four days
Mark Booth, Delta Optimist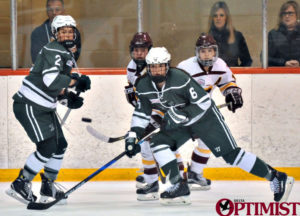 Delta Hockey Academy's Female Prep and Varsity teams at long last made their regular season home ice debuts at this weekend's Canadian School Sport Hockey League Showcase at Planet Ice.
A highly competitive four-day event concluded with the DHA Prep team falling 3-2 in a shootout to the Edge School from Calgary on Sunday. The hosts forced overtime when Katie Chan tied the game with 5:55 remaining in regulation. Aimee Brucker had the other Delta goal.
Leah Lanthier gave the Edge the extra point by being the only player to score in six shootout attempts. Reese Hiddleston was terrific in the DHA net making 34 saves.
The Wild began the weekend with a 5-0 win over Banff on Friday morning. Grace Elliott led the way with a three-point outing including a pair of goals. Nicole Soon, Jessica Soon and Aimee Brucker also scored. Taylor Bilingsley made 13 stops for the shutout.
DHA was then trimmed by Winnipeg's St. Mary's Academy 4-3 on Saturday morning. The difference was Jessica Haner's goal with just 53 seconds remaining. Mila Verbicky, Ava Svejkovsky and Brucker had the Wild goals. Chan chipped in with a pair of helps and Hiddleston made 25 stops.
The girls rebounded Saturday night by blanking Northern Alberta 4-0. Brucker continued her productive weekend with two more goals. Kesslan McCabe and Elliott also scored. Bilingsley made 19 saves for her second straight shutout.
The Wild now sit with a 5-5-2 record in regular season play. Next up is four games at the St. Mary's Showcase in Winnipeg, Nov. 16-18. DHA won't be back at Planet Ice until Jan. 19.
Meanwhile, it was an even busier weekend on home ice for the DHA Female Varsity team with a whopping six games over four days. The girls finished the hectic stretch with a 4-2-0 record, capped by a 1-0 shootout victory over Okanagan Hockey Academy on Sunday morning.
Logan Hamilton's shootout goal was the difference while Janaka Shahi made 17 stops in regulation for the shutout and turned aside all three OHA attempts as well.
The Wild opened the Showcase with a 4-2 win over Couer d'Alene. Allison Jakeway had a pair of goals. Tristan Craig and Melody Pilchak also scored.
Shahi had a 19-save shutout in a 3-0 win over Okanagan on Friday night. Makenna Bergen, Melisa Ardanaz and Emma Killman were the goal scorers.
DHA also trimmed Couer d'Alene 1-0 on Saturday morning. Lainey Joyce's third period power play goal was the difference. Shahi earned her third shutout of the weekend with 21 saves.
DHA Varsity are now 9-4-1 on the season.
Find the full article from the Delta Optimist here: https://www.delta-optimist.com/sports/dha-female-teams-at-last-enjoy-home-ice-at-csshl-showcase-weekend-1.23486898