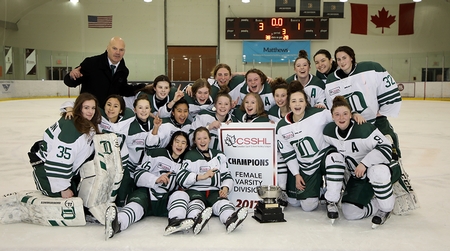 DHA is extremely proud to announce that our Female Varsity team are the 2016-17 CSSHL Champions!
Macy Young scored the winner with less than five minutes remaining as the DHA captured the 2016-17 Canadian Sport School Hockey League Female Varsity Division Championship with a 3-1 win over Shawnigan Lake School on Sunday afternoon.
Reese Hiddleston stopped 27-of-28 shots fired her way between the pipes.
Marah Wagner gave Delta a 1-0 lead with 6:02 remaining in the first period, which would be the only offence the game would see until the final frame.
Delta pulled ahead for good as Young put them in front with 4:31 to play, while Paris Eliopoulos added an empty-netter to seal the deal.
A huge thank you to coaches Owen Pighin and Dom Di Rocco on such a successful inaugural season and to the many parents and families who were in Calgary to support our DHA Champs!
http://www.csshl.ca/leagues/newsletter.cfm?clientID=4542&leagueID=15269&page=99132