| | # | FIRST NAME | LAST NAME | POS | DOB | HOMETOWN | GRADE | COLLEGE COMMITTED |
| --- | --- | --- | --- | --- | --- | --- | --- | --- |
| | 14 | Jenny | Andrash | F | 07/03/2002 | Richmond, BC | 12 | MacEwan University |
| | 2 | Devan | Andrusak | F | 04/30/2004 | Victoria, BC | 10 | |
| | 13 | Makenna | Bergen | F | 07/14/2003 | Surrey, BC | 11 | |
| | 35 | Taylor | Billingsley | G | 05/31/2002 | North Vancouver, BC | 12 | |
| | 15 | Katie | Chan | F | 01/05/2003 | Richmond, BC | 11 | Colgate University |
| | 17 | Haley | Chang | D | 08/24/2003 | Coquitlam, BC | 11 | |
| | 33 | Kimmy | Davidson | G | 02/12/2002 | Kamloops, BC | 12 | University of Manitoba |
| | 24 | Jamie | Grinder | D | 05/22/2003 | Richmond, BC | 11 | Ohio State |
| | 5 | Logan | Hamilton | D | 05/02/2002 | Duncan, BC | 12 | |
| | 8 | Tova | Henderson | D | 04/30/2004 | Richmond, BC | 10 | |
| | 20 | Allison | Jakeway | F | 05/20/2003 | Maple Ridge, BC | 11 | |
| | 6 | Emma | Lee | F | 09/10/2003 | Delta, BC | 11 | |
| | 19 | Baie | Marcantonio | F | 04/04/2002 | New Westminster, BC | 12 | University of Ontario Tech |
| | 27 | Kallie | O'Hearn | D | 07/14/2002 | Surrey, BC | 12 | MacEwan University |
| | 11 | Jessi | Soon | F | 06/23/2003 | Richmond, BC | 11 | |
| | 10 | Nicole | Soon | F | 03/14/2002 | Richmond, BC | 12 | Dalhousie University |
| | 4 | Ava | Svejkovsky | D | 07/26/2004 | Point Roberts, WA | 10 | Colgate University |
Dave Chyzowski
Director of Sales
Head Coach Female Prep
Dave joined the Delta Hockey Academy in 2019 to take on the head coaching role for the Female Prep team. Dave was drafted 2nd overall in the 1989 NHL entry draft by the New York Islanders. He was the captain of 1990 gold medal winning world junior team for Canada in Helsinki where he tallied 9 goals and 4 assists in only 7 games. After his gold medal championship, Dave went on to play 18 years of professional hockey in the NHL, AHL, IHL, DEL (Germany) and EBEL (Austria) with over 1000 games played before his retirement from competitive play in 2007. Following his professional career, Dave dedicated himself to supporting the growth of the Kamloops Minor Hockey Association as a coach for over 10 years while working for the Kamloops Blazers of the WHL as the Director of Sales and Marketing. Dave has two sons, Ryan and Nick, who play hockey for the Medicine Hat Tigers and the University of Waterloo, respectively.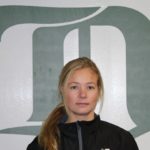 Kate Wheeler
Director of Business Development
Assistant Coach Female Prep
Kate graduated from Quinnipiac University with a degree in Biomedical Marketing in 2012. She earned a NCAA Division 1 athletic scholarship for the women's hockey team and served as an assistant captain from 2010 to 2012. After graduation, Kate played for the Neuberg Highlanders in the DEC League in Austria for the 2012/2013 season. Kate played for Team Ontario Female Prep in 2005 and was the captain in 2007. She played junior hockey for the Oakville Ice and the Toronto Aeros. Kate also manages operations for the Delta Health & Performance Clinic and is a certified strength and conditioning coach.