| | # | FIRST NAME | LAST NAME | POS | DOB | HOMETOWN | GRADE |
| --- | --- | --- | --- | --- | --- | --- | --- |
| | 20 | Anun | Badh | F | 04/20/2005 | Surrey, BC | 9 |
| | 6 | Maddox | Caie | D | 08/09/2005 | Surrey, BC | 9 |
| | 29 | Kobe | DePedrina | D | 03/15/2005 | Abbotsford, BC | 9 |
| | 3 | Govind | Dhillion | D | 03/15/2005 | | 9 |
| | 17 | Dylan | Freigang | F | 04/23/2005 | Odgen, UT | 8 |
| | 37 | Levi | Green | F | 01/09/2005 | New Westmnster, BC | 9 |
| | 1 | Johnny | Hicks | G | 09/05/2005 | Kamloops, BC | 9 |
| | 7 | Sung Gyu | Kang | D | 06/10/2006 | Coquitlam, BC | 8 |
| | 16 | Dong Eun | Lee | F | 06/02/2005 | Surrey, BC | 9 |
| | 18 | Braedon | Lutz | D | 01/23/2005 | North Delta, BC | 9 |
| | 5 | Carter | Nailen | F | 03/09/2005 | Surrey, BC | 9 |
| | 34 | McCarthy | Richardson | F | 04/19/2006 | Surrey, BC | 8 |
| | 16 | Aidan | Samuels | D | 05/07/2005 | Maple Ridge, BC | 9 |
| | 13 | Kabir | Shahi | D | 04/20/2006 | Richmond, BC | 8 |
| | 30 | Zach | Shaughnessy | G | 09/15/2005 | Surrey, BC | 9 |
| | 19 | Brayden | Sinclair | F | 09/26/2005 | Coquitlam, BC | 9 |
| | 8 | Blake | Van Straten | F | 05/14/2005 | Coquitlam, BC | 9 |
| | 9 | David | Yoon | F | 06/15/2005 | Langley, BC | 9 |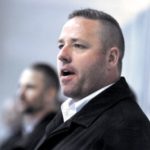 Bayne Koen
Head Coach Bantam Prep White
Bayne Koen joined the Delta Hockey Academy in 2019 as the new coach of Bantam Prep White. Bayne has an extensive coaching resume including his most recent role as the head coach of the North Van Wolf Pack Junior B hockey club where he lead the team to the Junior B PJHL championship title. Bayne also earned the title Coach of the Year for the PJHL in 2018/2019.
Keenan Scardina
Assistant Coach Bantam Prep White
Keenan is an alumnus of the Delta Hockey Academy; he played 1 year with the E15 team and 2 years with the Midget Prep team before the start of his junior hockey career. Keenan played junior in the VIJHL for Campbell River and then in the SJHL for Kindersley. He coached the Bantam Varsity team from 2017 to 2019. Keenan is currently studying business at Douglas College.