U17 Prep Coaching Announcement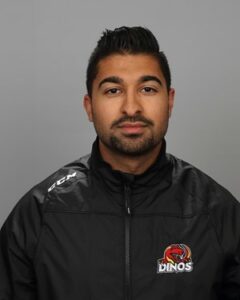 Sumeet Wareh takes the lead as the new Delta Hockey Academy U17 Prep head coach alongside returning coach Spencer Bennett and Director of Development Yogi Svejkovsky
Delta Hockey Academy President Ian Gallagher announced on August 31 that Sumeet Wareh will be joining the Delta Hockey Academy's coaching staff this season as the new head coach of the U17 Prep team.
Wareh is a Certified Hockey Canada Skills Coach and a Certified Hockey Canada High Performance 1 Coach. He has a wide range of playing and coaching experience that includes working as an Assistant Coach/Video Coach with the Medicine Hat Tigers in 2019-20, as a Video Coach for the 2019 Team Canada Men's National Under-18 Team, and as an Assistant Coach/Video Coach with the University of Calgary Dinos Men's Hockey Team from 2017-2019.
Wareh is also the owner and operator of LAB 9INE, revolutionizing the understanding and implementation of research-based player development. His approach is rooted in performance analytics, which he hopes will redefine the skill development industry. He has experience working with some of the NHL's best young prospects.
"Sumeet's experience coaching WHL and collegiate hockey will be an excellent addition to our U17 Prep program. We are thrilled that Sumeet is joining our coaching staff this fall," said Gallagher.
Wareh will be joined by Spencer Bennett, who is returning to the academy as the team's assistant coach. Bennett coached multiple teams at the Delta Hockey Academy over eight seasons – including leading the Midget Prep team to a CSSHL Championship victory in 2014/2015 – before taking a step back into an assistant coaching role as he started a career with the White Rock Fire Department. The academy's Director of Development, Yogi Svejkovsky, will also continue to support the U17 Prep team as an assistant coach.
"Sumeet, Spencer and Yogi's combined expertise will greatly contribute to the growth and development of our U17 program. I look forward to watching the team and coaching staff come together on the ice this fall," said Gallagher.
August 31, 2021