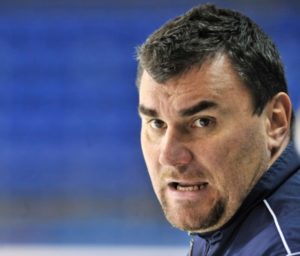 Delta, BC – Milan Dragicevic, former AJHL, UBC Men's, Vancouver Giants & local minor hockey development coach, has been named the Head Coach of the Bantam Prep White team at the Delta Hockey Academy.
Milan has an extensive coaching resume that started in Drayton Valley of the AJHL in 1998. He was named coach of the year in his second year behind the bench and was then offered the first coaching position with the expansion Vancouver Giants.
Dragicevic longest tenure was with UBC Men's Hockey team, which he spent 12 years (2002-2014) as the bench boss and key figure in building the tradition at UBC.
Milan also has strong ties to the community and minor hockey in the lower mainland, especially in the Richmond area. The last 10 years he has been the Director of Development for the Richmond Ravens Female program and in addition the last 4 years Milan was Director of Hockey for Richmond Minor.
"I am extremely excited to start this new opportunity and continue working to help build the culture around high-performance student-athletes. The tradition created at the Delta Hockey Academy based on strong values and development of people, students, and hockey players, is something that I am looking forward to beinga part of and continuing that tradition."
Milan is also the owner/operator of Dragicevic Hockey Development and runs the BC Selects spring program for boys.
"We are very fortunate to have Milan come on board with us in a coaching and development position. His extensive coaching career speaks for itself, not to mention his work with UBC and the several minor hockey positions he has had locally. He is a great fit for us and we look forward to what he adds to our staff and brings to our student-athletes.  " Ian Gallagher & Graham Lee – Owners, Delta Wild Hockey Group.
http://www.csshl.ca/leagues/newsletter.cfm?page=103666&clientID=4542&leagueID=15269