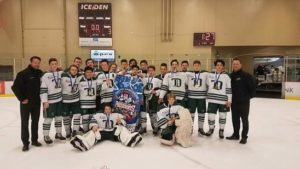 Congratulations to the Bantam Prep White on bringing home the 2018 President's Day banner over the weekend.
The team battled back from behind for a 4-3 championship win after an early first period 3-0 deficit against the Arizona Bobcats Gough.
Matthew Ward had 2 goals and 2 helpers in the huge win while Luke Pakulak and Killean McGregor-Bennett added singletons.
Congratulations Tim Preston, Brent Thurston and the Bantam Prep White team!  #wildpride